Fashion
Wearing Shorts to the Office: Fashion Statement or Faux Pas?
In just about any women's retail store or fashion magazine, you'll see them.
Shorts.
Dressed up with a blazer, a beautiful blouse, heels, and fine jewelry. All pieces of clothing you'd find paired with a skirt or pants in just about any office.
But shorts? Shorts are a whole other ballgame.
I'll admit it, I have worn shorts in the workplace. But I wasn't as brazen as you might think. I waited until I saw at least three other women wearing them first. Then I chose a conservative, knee-lengthed pair that fit properly.
But I still wasn't sure if I was pushing the envelope too far and speaking with a few friends, they're not so sure either.
So I took the power of crowdsourcing to find out what working women really think about shorts in the workplace, and the answer was an overwhelming one. No. In fact, of the 34 people that weighed in on the Facebook page, only four said Yes.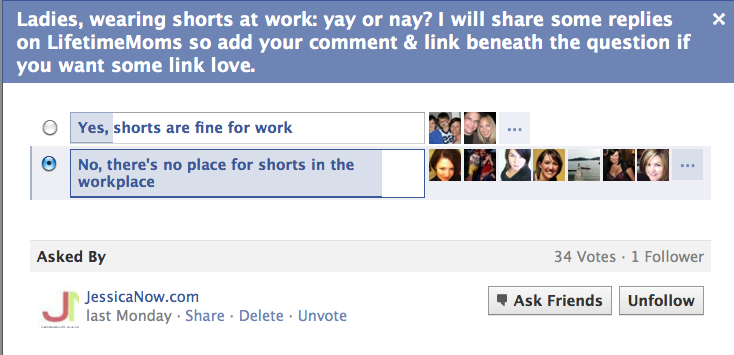 A few people offered their reason why:



I also asked people to weigh in on Twitter...and it was more of the same. Although there were a few caveats...


Now obviously, that answer may change depending on what industry you work in and what part of the country you live in.
In some parts of the country like Los Angeles, San Diego, and Austin, not only will you see more shorts but you'll probably see professionals wearing flip flops as well. Also, in some of the more creative industries like entertainment, fashion, and technology, you'll see more people using what they wear to work as a means of creative expression. This includes shorts. On the flip side, there are still some industries and parts of the country where wearing hosiery to work is still the status quo.
What about you? Would you wear shorts to work?