Shortcakes are an old fashioned dessert, and loved by all! By putting a very easy twist on them, you can create a fun and festive 4th of July Shortcake!
I started baking these Shortcakes last year, and they quickly became a huge hit in our house. They have just the right amount of sweetness, and they aren't too heavy, like some Shortcakes can be.
Shortcake Recipe:
2 cups Flour, all-purpose
2 tablespoons Sugar
3 teaspoons Baking Powder
1/2 teaspoon Salt
1/2 cup Butter, cold, cut into small pieces
1 Egg, beaten
1/2 cup milk
Directions:
Combine dry ingredients in a medium bowl. Cut in butter with a pastry blender. In a small bowl, beat the egg and add milk. Add to the dry mixture, combining well.
You can also make these in the Food Processor, just combine dry ingredients, add butter and mix. Add Egg and Milk mixture and combine well.
On a floured surface, slightly knead the shortcakes just until they are easy to handle and not sticky. Roll out about 1/4 to 1/2 inch thick and cut with a cookie cutter.
To make the Shortcakes, more festive, I used star cookie cutters, but you can easily use a round cutter or even drop by spoonfuls.
Place Shortcakes on greased cookie sheet and Bake at 400 degrees for about 10-15 minutes or until golden brown.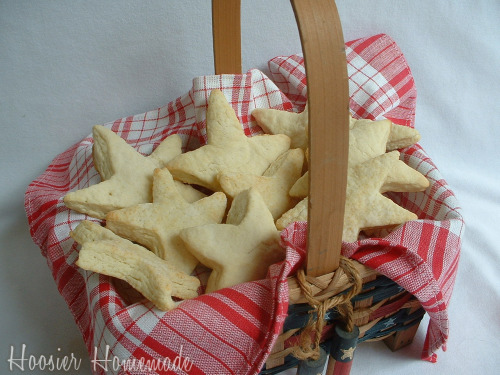 Filling:
1 box (small) Instant Vanilla Pudding
2 cups Milk for pudding
1 tub Whipped Topping, plus a small amount for garnish
1 container Strawberries
1 container Blueberries or Blueberry Sauce
Pudding Mixture:
Mix pudding according to directions on the box, refrigerate for 5-10 minutes, gently fold in thawed whipped topping (leave a little back for garnish)
Blueberry Sauce:
2 cups Blueberries
1/3 cup sugar for Blueberry Sauce
2 tablespoons Water for sauce
1 1/2 teaspoons Cornstarch for sauce
Directions:
Place 1 cup berries, sugar, water and cornstarch in saucepan on top of stove. Heat through and simmer for 1-2 minutes. Add remaining berries. Let cool.
Assemble:
Carefully slice shortcake in half, place bottom on plate. Top with a couple spoonfuls of Pudding mixture, top with Strawberries and Blueberry Sauce. Add top half of shortcake, a couple spoonfuls of Pudding mixture, a little Whipped Topping, a couple Strawberries and some more Blueberry Sauce. For the Whipped Topping garnish, I spooned some extra into a decorator bag fitted with a star tip, and simply piped on the garnish.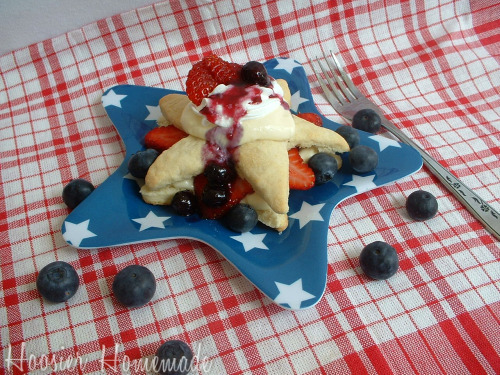 Enjoy and Happy Fourth of July!
Liz is the Hoosier Momma from Hoosier Homemade. She is a SAHM of 3 teenage boys, that keep her running with their sports and school activities. Most of the time you can find Liz creating her cupcakes for Cupcake Tuesday. But, she also shares her baked goods, Budget Friendly Meals, and decorating tips and tricks, all to help you "Make Your House a Home." And when she's not at Hoosier Homemade, you can find her having a party over on her new blog, It's A Blog Party. Or you can follow along with her on Twitter and Facebook. Liz is also a proud Lifetime Mom!