Swiffer Wetjet and "See Mom Run" Giveaway
If you've ever taken an incredibly stressful road trip with your kids, did you ever let your mind wander off to a place where you could magically slip away from home for a brief spell and hit the highways and byways of the United States? A place where you'd connect with incredibly dynamic women, travel with your close girlfriends or your mom and get the chance to unwind and do the things you love without anyone wailing from the backseat, "Are we there yet?"
Thanks to my new book, "See Mom Run" and Swiffer WetJet, who sponsored my North American book tour, I got the chance to do just that and I'm here to share some tips that I picked up on the road to keep your "Thelma and Louise" adventure safe, fun and guilt free! Plus, if you comment on this post, you'll be entered to win a See Mom Run Peace of of Mind gift basket presented by Swiffer that comes complete with a copy of my new book and all kinds of goodies that'll keep your life less harried at home and on the road!
You could win a Swiffer Wetjet gift basket (a $250 value) or a copy of Beth's new book, "See Mom Run". Read Beth's post, then enter to win by leaving a comment about it. To leave a comment, scroll to the bottom of the page when you're finished reading the post, and start typing in the comment box. You'll need to register to become a member first (or sign in if you're already a member). To be eligible to win, your comment must be posted by 11:59 PM EST on January 27. Make sure to review the official rules before you enter. Good luck!
1. Safety First: Our travels literally included planes, trains and automobiles and what I found most stressful was driving through places I had never traversed before. For our east coast and west coast leg of the trip, Volkswagen provided us with a top of the line Routan (complete with DVD players, seating for seven and storage galore) and a sporty Jetta to transport us to our events and appearances. Since I am a VW owner, I actually felt safer in the cars because I knew where everything was - from the radio controls, to the seat adjusters and seat warmers to the gas tank (yes, I am gas tank challenged). Plus, when we hit a rain storm while traveling to Philadelphia, the Routan handled like a dream. No swerving or swaying or skidding for that matter. The two main travel tips I'd like to advise if you are visiting destinations that are unfamiliar to you are to rent the same brand car that you own and do not, I repeat, do not try to merge onto a highway while an 18 wheeler is barreling down on you from the right lane. Yes, while on a major highway in Boston, I thought we were going to be roadkill for a brief moment, but thankfully, we survived to tell the tale.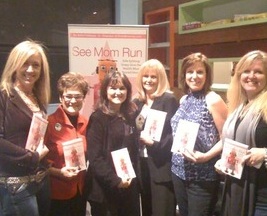 2. Take Along a Co-pilot: As part of the See Mom Run tour, I convinced my mom to join me for part of the journey (mom is pictured next to me on the left with our fabulous L.A. See Mom Run contributors). Since mom was already in snowbird mode in Florida, we met up in Los Angeles where we spent the weekend together and then flew to Seattle where we braved the freezing cold temperatures and the unfamiliar roads. This time we were driving a car that we didn't know very well and while it did have a GPS system, I couldn't figure out how to pump gas into the tank for the life of me. And while mom isn't the best co-pilot when it comes to directions, I still was so glad she was in the passenger seat. While spending two days straight catching up on conversations we're never able to finish because my kids always manage to interrupt us, mom and I did what we do best when we're together - shop, eat and laugh! In fact, while mom couldn't figure out how to program our Navigation system, her internal mall GPS led us to the shopping district where we managed to stumble upon a two-for-one sweater sale at Ann Taylor Loft!
3. Make sure your family is happy at home: In order to truly enjoy your own adventure away from home is to make sure everyone is being taken care of while you're gone. Now, how do you achieve peace of mind at home? First, have a designated go-to mom who can help with carpool pick-up while you're away. Next, keep your family armed with cleaning items that'll make their life easier - my three favorites are the Swiffer WetJet (for spills that manage to occur the minute you're about to take the kids to school), the magic eraser (for unexplained crayon marks that wind up on the walls when you've hopped online for a few moments to post your Facebook Status) and Febreze air freshener (for unsightly pet, kid and spouse odors).
Bonus hint: If for some reason your husband forgets to go grocery shopping and you know the kids are going to be dining on cat food in the lunchroom the next day if you don't think of something quick, then let your fingers do the tapping. Thanks to Verizon Telecom, I was able to experience free wi-fi on the road, slipped into a Starbucks in Seattle (lucky for me, there's a Starbucks on every street corner), logged onto the HP laptop Verizon had loaned me for the tour and ordered Fresh Direct for my entire family. After the groceries had been ordered, I then called home via Skype and had a video chat with my husband and kids. While I wasn't there competing against them in Disney Sing It, I did get the chance to check in virtually and even gave my husband step-by-step directions on how to prepare the perfect cream cheese sandwich for my daughter's lunch the very next day.
4. Relax & Pamper Yourself: Even if you're on a business trip, if you're not with your kids then why not do something you never in a million years would have time for - like hitting a spa for a massage, facial and pedicure. Now, yours truly does take her daughter to the nail salon (she's been going with me since age 2) and the ladies there know her by name, but I know plenty of moms who are in desperate need of a little relaxation and a makeover, too. Take an hour or two for you and trust me, when you finally race home to hug your kids, you will look and feel like a million bucks! Oh, and did I mention if you're staying overnight in a hotel (my personal fave this time around was the Marriott in Seattle), make sure you sleep at least eight hours! I recently heard that sleeping longer can help you lose weight - if that's not incentive to go to bed early, then I don't know what is.
5. Explore, Experience and Enjoy: Now is the chance for you to visit places that you want to go! That means there will be no amusement parks on your travel itinerary but there certainly can be museums, shows, chick flicks, shopping, restaurants that don't cater to the kiddy crowd, winery tours (Seattle or Northern California are ideal destinations for a vineyard adventure) and even a visit to Eli's Cheesecake factory (check out the photo on the right)! Spend a few hours as a tourist in a city you've never visited. You'd be surprised how much fun it can be exploring, stepping back in time and taking in all that a city has to offer.
Now for the fun part. If you are a harried mom (and honestly, who isn't) then we want to hear from you. Comment now and you will be entered to win a Peace of Mind gift basket presented by Swiffer Wet Jet. Good luck and never stop running!