Join bTrendie and get a $10 bonus!
The latest trend among online shopping seems to be flash sale sites. There are so many available, how can you choose just one? I am already partial to Groupon and Totsy.
Well, I have a new favorite place to score deals online, just for moms: bTrendie.
What is bTrendie?
bTrendie.com is an invitation only shopping network for moms and moms-to-be. We scour the globe for wonderfully designed, high quality, newly created products you need for your baby, your home and yourselves. Once we find these products, we negotiate the best price possible and then offer it to you, our member, but only for a limited time. Our Events are usually open for 48 - and sometimes just 36 -- hours, so shop fast and shop hard because once the event is over, it's over.
The best part? Membership is FREE. Since you must be invited to join, consider this your invitation. For a limited time, all new members receive a $10 bonus in their account upon sign-up which can then be used to shop! I discovered $10 can go a long way at bTrendie, and recently scored an adorable umbrella for under $5, shipped.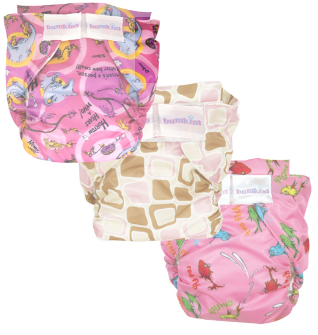 These Bumkins diapers were recently available for 60% off. Check bTrendie each day for fresh new deals, and tell your friends, too!